Import Coordinator – Thriftys Family of Brands
Date Posted
February 28, 2023
Department Imports
Location Toronto, ON
Job ID 114578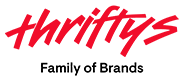 Website Thriftys
Thriftys Family of Brands is HIRING! Our brands include Bluenotes, Thriftys by Bluenotes, Aeropostale Canada and Lucky Brand Canada.
Thriftys Family of Brands has been a proudly Canadian company since 1942. From day one, our roots have been firmly planted in denim. Our company philosophy is all about our customers and employees feeling empowered to express their individuality and diversity through fashion – we want YOU to be YOU!
Do you want to work for a company that is a leading brand in the fashion industry? Do you love denim? Are you an authentic, influential individual that will add energy and excitement to our growing business? Do you thrive in an environment that is hands on, fast paced and ever-changing? If you answered "Yes", then we want to meet you!
Position Description
First point of contact in the importing process, liaise with buyers, vendors, and banks to assure that proper documentation is filled out for the successful customs clearance and delivery of merchandise to the warehouse. You must be able to identify and correct errors in documentation, understand the importation process and be versed in letters of credit.
Duties and Responsibilities
Duties and responsibilities include but are not limited to the following:
· Communicating with the buyer, vendor, bank, freight forwarder and broker to resolve any problems on the orders, shipments, and payments
· Open letters of credit to the vendors and bank release
· Communicating information and instructions to/from vendors
· Maintain accurate filing system, update/input details of shipments in the system and ensure accuracy
· Keeping management informed of problems, progress, and requirements in the department
· Call the Warehouse or Allocations Departments', when necessary, to advise of shipment status and/or obtain information necessary to process shipments
· Special attention to key assigned accounts
· Handling customer calls in a professional manner
· Ensuring that shipments are processed through Canadian Customs in a timely and efficient manner and that customer requirements are fulfilled
· Maintaining close liaison with Canadian Customs for various specialized Canadian Customs' clearance requirements
· Complete accurate monthly reports as requested by management and finance as needed.
· Responsible for all assigned banners' ocean, air and truck shipments, the booking of shipments, customs releases, payment package to AP at the accounting department, cargo release and all filings
· Reviewing all documents, contact all first-time customers, and handle other tasks as needed
· Prepare commercial documents for all export shipments.
· Customer service, bookings, documentation, and routing of assigned shipments
Excellent multitasking skills
Qualifications
· Minimum High School diploma or equivalent
· Minimum of 2 years' experience as an export/import coordinator is required. Minimum 2 years freight forwarding experience required
· Knowledge of all Canadian import/export laws
· Knowledge of freight forwarding and shipping industry
· Knowledge of shipping documentation and Letter of Credit
· Understanding of warehousing and distribution
· Sea and air transportation knowledge
· Knowledge and interpretation of commercial documents
· Pro-active and able to identify areas of improvement or concern and to make recommendations and implement solutions
· Proficient computer and keyboarding skills required (Microsoft Outlook, Word, and Excel)
Related Work Skills
· Excellent attention to detail
· Excellent communication skills both orally and written
· Able to work well independently and as part of a team
· Outstanding organizational and time management skills
· Ability to communicate in Cantonese, Mandarin, or Indian dialects is an asset
APPLY FOR THIS JOB